In the fast-paced world of healthcare, finding the perfect formula to make your marketing efforts thrive can feel like searching for a magic pill. But don't worry, you've come to the right place!
Our 9-step Life Science Marketing Strategy Framework is designed to adapt to the unique vision, needs, goals, and maturity of life sciences companies at every stage.
Leveraging over 10 years of experience in healthcare marketing, our strategies draw from a diverse range of healthcare sector, including:
Venture capital
Health plan
Health system
Digital health and telehealth
Health IT
Curious about how a life science marketing strategy can "transform" your company? Here are four ways our healthcare marketing agency can turn your company into a demand generation powerhouse:
1. Our 9-Step Life Science Marketing Strategy Framework
We work with life sciences companies of all stages. So, we've used our experience with go-to market strategies to develop a lean and effective 18-24 months process.
Below is our crafted 3-stage, 9-step process to create a custom life science marketing strategy for any of our healthcare marketing clients:
Prioritize: Conducting detailed    customer research to build a solid strategic foundation.
Stabilize: Collaborating closely with your team and resources to align all business and marketing efforts for success.
Maximize: Implementing the strategy to generate ROI and see results.
A well-developed life science marketing strategy will reposition your company as a proactive, demand-generating force within your industry.
2. Have The Right Demand Generation Agency on Your Team
One unique approach we take as a demand generation agency is offering Chief Investment Officer (CIO) consulting services!
We offer these services to make sure your marketing and business strategies are aligned while you are conducting your ongoing business development and fundraising efforts. This means creating marketing materials that are tailored for investors, partners, and other stakeholders whilst keeping consistent messaging throughout!
By seamlessly integrating marketing and business strategies, we create a unified force that drives growth and success!
Pace Creative's CIO Services
We offer a comprehensive range of Chief Investment Officer (CIO) consulting services across three tiers, designed to bolster successful fundraising efforts.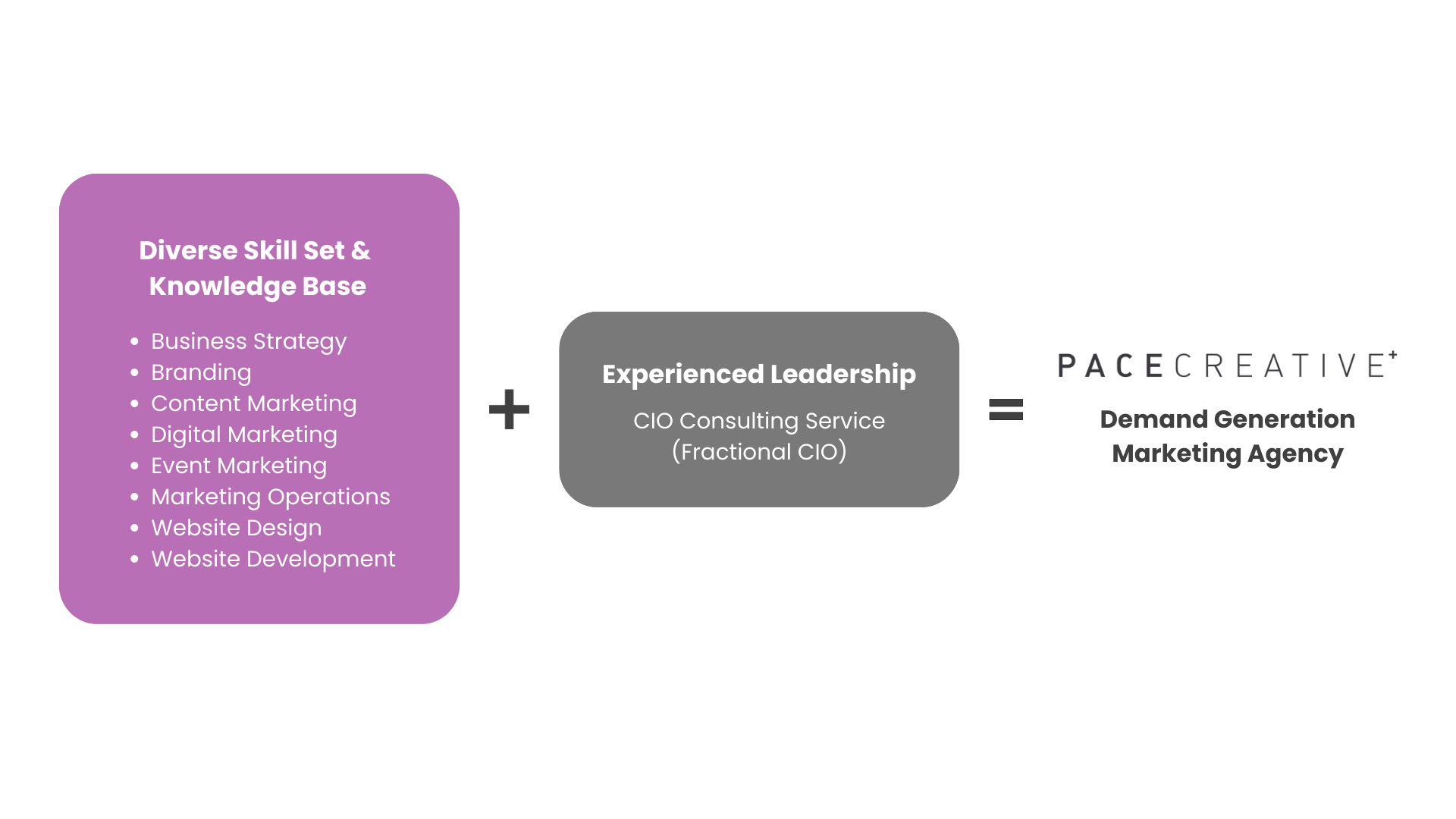 Pace Creative's Investment & Growth Strategist, Tricia, has participated in fundraising in excess of $6B worth of fundraising during her 35+ year career. Tricia's experience spans all stages of growth, from start-ups to IPOs, and encompasses seed funding, venture capital, private equity, and institutional rounds.
3. Completing A Strategic Life Science Marketing Audit
One of the most important rules for demand generation in healthcare marketing is to focus on the buyer's needs. By shifting to a customer-centric strategy, you can get stable lead generation.
To do this the right way, completing a strategic marketing audit can:
Identify the gaps
Map out next steps to demand generation
4. Developing a Life Science Marketing Strategy Foundation
A house is only as strong as its foundation. And as your demand generation agency, we can act as that marketing foundation.
Our award-winning team has the business marketing expertise you need – all under one roof:
No matter what stage of growth your company is in, partnering with a demand transformation agency to build a strategic foundation might be the answer!
Get in touch with Pace Creative to turn your healthcare marketing strategy into results.