Is your brand working for you? Using digital marketing for brand awareness is one of the ways to ensure that your investment into your brand is paying off!
Here are the best (and easy) digital marketing for brand awareness strategies that your B2B can implement today to start getting results:
1 – Consistency is Key for B2B Brand Strategy
First, to launch a successful campaign with brand awareness as your goal, your B2B brand strategy needs to be defined!
Wondering how a brand strategy can help your business? Take a look at our blog on how B2B brand strategy can increase brand awareness before reading on!
Establishing a consistent brand image, including colors, logos, fonts, tone of voice, and synching your goals with your sales team to engage in best sales enablement practices, will make or break your B2B brand awareness campaigns!
2 – B2B Branding Through Social Media Campaigns
Certainly, the most obvious digital marketing for brand awareness strategy is social media.
Using as many or as few platforms as you can – depending on your time and budget – having a consistent and branded image across channels is one of the best ways to capture new leads and maintain current client relationships.
Here are some new campaigns you can try to spice up your social medias:
Interactive Content Functionalities
Creating interactive content has never been easier because all the top social media channels have built-in interactive content features! It's now quick and easy to get your audience to engage in your posts – beyond just liking and commenting.
Some of the most notable interactive features to take advance of include:
LinkedIn Polls
Twitter Polls
Instagram Stories

Slider-rate function
Leave a comment box
Multiple choice quiz box
Giveaways
Another way to grow your social media audience while simultaneously establishing your brand position and image is to host giveaways! No matter how big or small the giveaway is, it will:
Encourage comments and interaction from your audience
Encourage audience members to participate in your brand promotion
Contribute to your brand positioning and image by communicating your corporate values
Cross-Promote Your Channels
Is your presence on LinkedIn strong; however, you're achieving little interaction on your other platforms? Promote your own profiles on your other accounts!
Merging your audiences across platforms does two things:
Grows your audience on all your focused platforms
Increase current and potential client interactions
Need inspiration for your LinkedIn Business Page? Check out ours here!
3 – Search Engine Optimization for B2B Brand Messaging
Search engines run our world. Therefore, SEO (Search Engine Optimization) is one of the TOP digital marketing strategies that every company, no matter the industry, should be engaging in.
There are so many ways to engage in SEO that it can be extremely overwhelming! So, here are two easy ways you can start to maximize your web presence and make sure that your brand image is consistent across the board:
Invest in an SEO Strategy and Plan
You need a strategic SEO plan before you can pursue SEO greatness.
Since SEO is complex and causes headaches (even for experts), out-sourcing strategic minds from marketing agencies is the most efficient way to optimize your website!
Good news: we're a strategic full-service marketing agency that offers SEO planning and execution services.
One of our most recent successful SEO and strategic website development projects were SaaS companies Lola Solutions and Dominic Systems. Check out their newly designed, strategically developed websites now!
Optimize your Web Appearance With Strategic SEO
Outside of UI and UX design, there are many other ways that a website can become a hub for consistent B2B branding. For example: Meta Tags!
Meta Tags are the elements that show up on a Search Engine Results Page (SERP). They include a page title, meta description or page description, and the URL slug.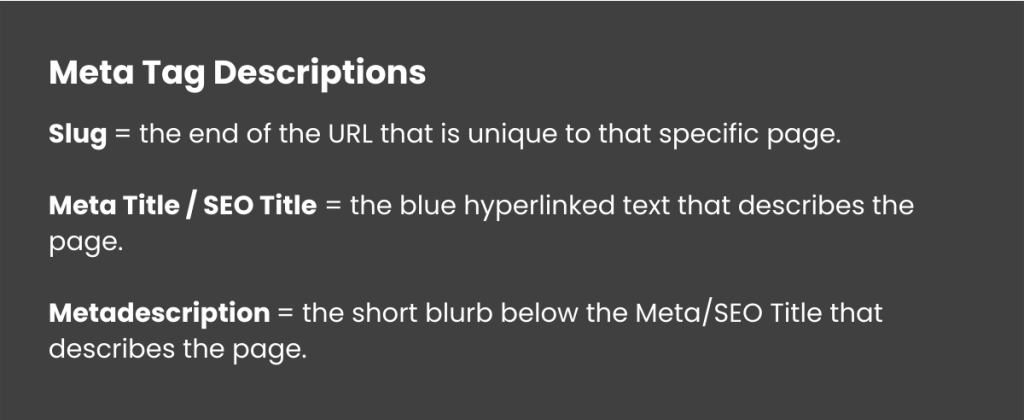 By implementing meta tags for all your web pages – your presence on the web and in SERPs is customized and consistent! You are thus presenting a cohesive brand image from web page to web page and your website overall has a better chance of getting noticed by the search engine.
Have a big website? Put extra focus on optimizing the pages that hold the most value for your company. This might be specific product pages, services descriptions, or your contact us!
This is exactly what we did for one of our clients,  ! They are now ranking for keywords such as:
Dance Studio Rental
Theatre Rental ­
Dance Workshop
Internal Linking or Backlinks
Internal linking is any link from one page on your website being used on another page on your website! This is also referred to as "backlinking."
HINT: We've been doing this a lot throughout this blog post!
As your website grows (especially if you're engaging in the content creating strategies outlined below) strategically structuring your B2B customer journey and promoting specific pages/content is key. Backlinking is easy to incorporate, helps build your brand image, and contributes to your website's ranking in search engines!
4 – Content Creation as Brand Communication Strategy
Content, content, content. With so many ways to create content nowadays, it's become a little overwhelming! Here are three easy ways that your brand communication strategy can use content creation:
Create a Brand Story
Tell your audience who you are. No matter if you recently had a complete brand refresh just last year or if your logo has been around since the 80s – your story is interesting!
This can be a social media campaign, a page on your website, or even full video campaign. There are so many ways that you can re-purpose your company story to reinforce your mission statement and corporate values across ALL your channels.
This video we planned, designed, and created for Volunteer Toronto is a great example of using content to accentuate the brand story.
Show Your Expertise with Blogs
Do you have unique insights into your industry? Become an industry leader and use this knowledge to differentiate your company and stand out from the crowd!
Blogs are a great home-base of content creation and brand image because you can:
Cross-promote your blogs on your social media channels
Repurpose blog content in other digital marketing initiatives like infographics
Internally link to and from your blogs within your website
We know this works from our own experience. Our Pace Creative blog is full of industry though leadership and has been a great source of content for all our multi-channel marketing efforts!
Create Case Studies or Client Success Stories
As a B2B, one of the most important metrics for your business is client retention and client referrals. One of the best ways to show potential and current clients what services you offer is through case studies or client success stories!
BONUS: You can easily incorporate these case studies into your social media channels and link to them in your blog posts or throughout the rest of the website!
Check out how we're showing off our client projects and success stories.
5 – Set Digital Marketing for Brand Awareness S.M.A.R.T. Goals
When implementing any new digital marketing strategies, set S.M.A.R.T. goals to get the best results!
As yourself the following questions about your chosen digital marketing for brand awareness campaign to make sure you stay on track:
Specific
Which marketing channels will this action be taken on? What other channels will be impacted by this?
Measurable
What relevant metrics will you be monitoring and measuring going forward in this campaign?
Attainable
Does this campaign fit within your time and financial budgets for digital marketing? Are the metrics you're aiming for logical and attainable?
Relevant
How does this campaign fit into your larger digital marketing and brand strategies? Can this content be re-purposed for other channels or later campaigns for optimized efficiency?
Time-Bound
Do you have a timeline or calendar for how this campaign will be executed?
Contact Us to Get Started
Are you ready to get started on capitalizing on your B2B brand image and improving your position within your industry? Reach out to us today to learn more about how a content and digital marketing brand awareness strategy can take your B2B company to the next level.