Website Performance Optimization: How to Get Results
Is it time to redesign your online presence to help your brand stand out? Companies redesign their website, focusing on branding and not necessarily website performance optimization. Your new B2B website will look great! Unfortunately, you may discover over time that it might not be designed to perform online.
At Pace Creative, we believe a website is a marketing investment – not an expense. So how can you hire the right website agency to ensure that your website redesign will optimize your company's online performance and get results?
What does Website Performance Optimization Mean?
Let's start by defining what website performance optimization is! Website performance evaluates the user experience of a website, such as how quickly website pages load and display in the web browser.
When it comes to website performance optimization, here's what you can do to make your B2B website faster and high performing:
Reducing overall load time
Allow users to interact with the website quickly
Making the website smooth and interactive
Considering user perspectives of website performance optimization (i.e., keeping the user engaged while waiting for a page to load
Measuring and monitoring performance using metrics
Website Performance Optimization Goals
To improve your B2B website performance, here are 3 website performance optimization goals to consider in order of importance:
1. Increase your Traffic and Searchability
Here are some ways to achieve better website traffic and searchability!
SEO Strategy
Developing an SEO strategy by incorporating SEO-friendly URLs, title and header tags, meta tags, and more will improve your SEO ranking, thus increasing your B2B website's searchability.
Implementing a linking strategy by utilizing an internal link structure that connects all the web pages.
Keyword research and content strategy are crucial aspects of improving website traffic, which means developing content that is:
Useful and informative
Credible and trustworthy
Unique and engaging
Stands out from competitors
Mobile Design & Development
A responsive design is a good one. Mobile-first design is better! Mobile-first design helps increase traffic and searchability by optimizing websites to be mobile-friendly for a better user experience.
2. Increase Conversions and Sales
This website performance optimization goal seeks to convert your users to marketing qualified leads (MQL). Some redesign strategies aiming to achieve conversions are implementing an inbound marketing strategy, developing a wireframe, optimizing your B2B website for mobile users, and integrating advanced technology like chatbots and automation software.
3. Improve User Experience
Improving the user experience is an essential aspect of website performance optimization as it encourages the user to stay on the site, interact with landing pages, and follow intended pathways.
4. Reducing the Bounce Rate of your B2B Website
The bounce rate measures how many people enter your website and leave shortly after.
To reduce your B2B website's bounce rate, creating user-centric content that targets the right audience at the right time will make a difference in achieving online performance.
5. Providing Greater Support for Sales Reps
If done right, a website should support your sales team in meeting your revenue goals. The sales and marketing departments are working towards the same goal. The most powerful marketing tool to support sales is website performance. When a website presence is optimized, there is no lack of MQLs and SQLs. A strategic website can play a massive role in the company's sales enablement, growth-driven design, and inbound marketing.
Website Elements that Make an Impact
Here is a list of website elements that can vastly improve your website performance optimization and get you the desired results!
B2B Search Engine Optimization
An optimized website will rank for B2B search engine optimization by implementing keyword targeting, meta tags, internal links, image alt texts, and more!
Keep reading if you want to discover B2B SEO tools for your brand's messaging!
Targeted Content
This website element is essential to optimizing your online presence. Strategizing your website content plan based on your intended audience will help your B2B business gain brand awareness and establish an online presence with your B2B website. Your website needs to attract the right visitors with its content, and one way to do that is through buyer personas!
Buyer personas represent your target audience through deeper insights about your B2B website prospects, and they also help reduce your bounce rate, as mentioned previously! These buyer personas may investigate job titles or industries, demographic, goals, pain points, and search phrases. They help define what content is needed to attract website traffic and provide a valuable experience for the user.
Usability
When redesigning a B2B website, prioritizing the user experience will determine the success of your B2B website. Usability is also associated with optimizing your website to rank on search engines and invite website traffic. Your B2B website should be user-friendly and interactive, meaning it should be easy to navigate, there should be a site search option, and the overall design should be aesthetically and visually appealing.
Calls to Action (CTAs)
What's missing from your website? A call-to-action! Every website should be embedded with CTAs to make it more user-friendly and interactive. This will improve your conversion rate and increase qualified leads. There should be countless opportunities for users to get in touch with your B2B and take further steps, such as viewing your social media, "read more", "contact us", or "sign-up" options.
Website Aesthetics
Since we're talking about website redesign, website aesthetics will significantly impact your website's success. Your B2B website should have a visual appeal that will attract users to the website. Implementing UX/UI design, high-quality images, and keeping the design consistent with your brand will make all the difference!
H3 Website Speed
Website speed can make or break the success of your website. Your B2B website should be easy to load to achieve a low bounce rate. Prioritizing the functionality of your B2B website will help improve your website speed and attract more visitors who will stay on your site longer!
Importance of Mobile-Friendly Websites
Everyone has a phone, meaning many users might view your B2B website from a mobile browser. Ensuring your website is mobile-friendly is essential to establishing your B2B business online.
Once again, mobile-first design is a great strategy to optimize your B2B website for mobile users. Approaching the design stage from a mobile perspective will provide an overall better user experience across all platforms.
Website Design Considerations
Website Content Audit
Website Strategy
Targeted Content Strategy
B2B Search Engine Optimization Strategy
Online Creative Brand strategy
UX Design/Research
Website Processes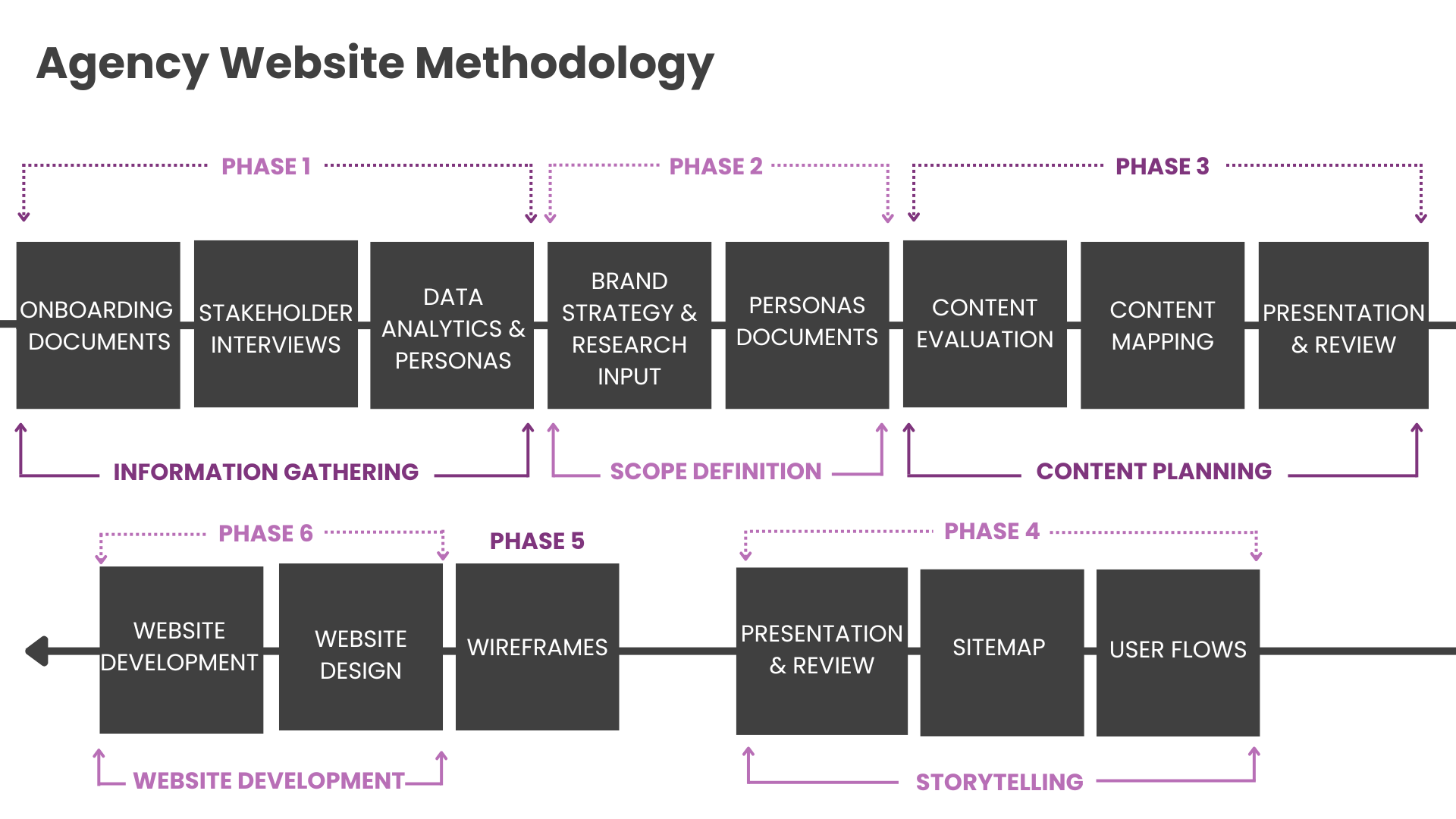 Phase 1: Website Information Gathering
Website information gathering is probably the most important phase of the development and design process. This first phase is also known as the "discovery phase," where you will analyze your business or your client's needs and requirements. Moreover, in this phase, the designer portrays the client's vision on paper.
In this phase of the website performance optimization process, it is important to understand the purpose of creating the website, it is also imperative to know the website's goal, which audience you want to target, and the type of content your target audience will look for. These are crucial factors to determine in the fundamental phase of website design.
Phase 2: Scope Definition
A website development plan is often a document that includes information on the scope, a list of functionalities, deliverables, project schedule, cost, and key assumptions. It identifies the requirements for the website, so you know what to include and when it needs to be delivered. The scope is also based on the B2B website's goals and users' needs. During the website performance optimization process, ask yourself: how this website project will meet the business growth goals?
Website Content Planning
A website content plan is an overarching website content strategy for the website. At Pace Creative, we create a content wireframe. The wireframe governs all the content published on the new site. It ensures that all your content is SEO optimized, cohesive, addresses the needs of your audience, and is on-brand. It is important to let the viewer know what business problem your business solves, who you are and what you do right away when they visit your website.
A good website content plan will:
• Identify what content already exists
• Outline what new content is needed
• Establish rules and guidelines for new content to ensure your quality remains consistent
Creating a website content plan is a big part of our website methodology and makes our agency stand out. A website content plan acts like a roadmap; it identifies content opportunities and makes the website process successful.
B2B Website Design:
The B2B website design goal should be to create an interesting, memorable, SEO-optimized, and friendly user interface. You want to ensure that your business's B2B website interface leaves a positive impression that drives website performance optimization results (Forbes, 2019).
You can do so by following some of these website design suggestions:
Use graphics and easily readable fonts
Optimize your website for fast loading. Did you know?: If your website is slow, search engines like Google will penalize your website
Invest in a content marketing strategy to understand what your target audience wants from your site and make it easy for them to get the information they are looking for
Ensure consistent online branding as part of your website design
Design an intuitive website that users can easily navigate
Provide easily accessible contact information
Incorporate obvious and customized Calls to Action (CTA)
Create pages that are standard for all businesses
o About us
o Services
o Team
o Contact us
o Privacy policy
o Sitemap
The Power of Visual Storytelling
Humans are social beings; stories define our shared experiences and the narratives we find in the basis of modern life. When developing content ensure the content includes the 7 elements of storytelling. How can you share your content visually to engage potential customers?
The Content Marketing Institute suggests that "storytelling is not intended to be a selling tool; it's a method of building strong relationships with your customers and a thriving community of loyalists over time." Website storytelling becomes an ambassador for the entire brand and represents what your company can do for individual clients and how it can make them a part of your mission to improve their business. A B2B website that tells a story persuades visitors to stay longer and leave with a desire to forge a stronger connection with the company by following the company on social media channels, subscribing to its newsletter, following its executives, referring the brand and becoming loyal customers.
Here are 4 types of Website Storytelling that can be used within your online presence:
1. Visual storytelling: Strategic use of visual elements to reinforce your branding and create a narrative for readers to follow.
2. Content storytelling: Use of on-site copy across web pages, articles, and marketing materials to communicate with your target audience.
3. Video storytelling: Utilize the engaging nature of video content to share your brand's story and connect with your target audience.
4. Design storytelling: Use of website design elements such as animations, triggers, and layout to capture a reader's attention and provide implicit information about your brand.
H2 Company Success Stories
The Coal Association of Canada – Website Optimization Success Story
Now that you know what it takes to improve website performance optimization let's look at a real example. The Coal Association of Canada (CAC) and Pace Creative worked together to create a strategic website to optimize its online presence and meet specific business goals to support the organization's growth.
The organization's online goals include:
Redesign their B2B website to increase website traffic
Improve the website navigation
Increase the number of members joining the association
Use the website as a content hub for the Coal Industry in Canada
We developed a website site map based on specific taxonomy to make the website easy to navigate. We researched the users and what information the different stakeholders were looking for to make sure it's easy to find. We optimized the website's content to meet SEO organic search goals. We transformed the branding into a more modern look, as well as implemented website functionalities such as a resource hub, and digital member sign-up.
In 2019, the website brought approximately 24,000 new visitors. Our web design strategy and website content plan helped lower the website's bounce rate to 55.84%. We assist the CAC with ongoing maintenance and technical support to ensure all website goals are tracked and met year after year.
CAC's B2B Website Before and After Pace Creative's Website Performance Optimization Redesign:
Kindred Construction- Website Redesign Success
Kindred Construction is another great example of a successful website performance optimization! Kindred decided to invest in a brand refresh to reflect the needs of the evolving market and position them for growth in the future. Pace Creative partnered with Kindred to redesign the website to bring Kindred's brand identity to life in a modern and dynamic way.
Kindred's website was designed over a decade ago as a brochure. They wanted their online presence to reflect who Kindred is as a company today and the executive team's vision. They wanted to make the website more interactive for an overall better user experience. In addition, Kindred wanted to optimize the website to rank for organic SEO, include conversion points, relevant content, and integrate the brand messaging and unify it with other marketing channels.
Pace Creative underwent a user-centric website redesign and development, created an SEO strategy, and helped improve the overall look and feel of Kindred's website. As a result, Kindred's website bounce rate jumped from 89% to 55%, and we collaborated with them to create a Kindred custom homes website!
Pace Creative's Strategic Website Redesign for Kindred.
Conclusion
With the vast amount of information and disinformation circulated through various marketing feeds, it can be overwhelming to determine how to invest your effort and marketing budget. That said, if you focus on the tips given throughout this guide, your website performance optimization and online presence will be set for success. Ultimately, a strategic website should align with your content marketing strategy; by writing solid evergreen content, along with an optimized website design, you will attract and generate conversions for your business year after year. Your company will enjoy a marketing investment that will get a compounded return month after month! Are you ready to invest in your online presence? Get in touch! We will be happy to help!