How often do you update the design of your website?
Did you know that its recommended by digital solutions experts to do a full revamp of your website every 2-3 years?
This keeps the design fresh, relevant, and on-trend!
With all of the cool features you can add to your website, it is also important to make your website appealing and that the flow of information is intuitive to your website visitors.
In this blog post, we'll walk you through the 5 latest web design trends in 2021 to help transform your website into an eye-catching #1 lead generation asset.
1. Making Your Website 508 Compliant
This is more than a trend. If you are not making your website accessible to every visitor, it might result in both discriminatory and legal issues. Here are a few different areas you can check to ensure your website is more accessible to visitors with visual imparities:
Content Adjustments
Make sure your font is readable, scalable, and that there is a text magnification function. Along with the font size, make sure visitors of your website have the ability to adjust line and height ratios, text alignment, and letter spacing.
Color Adjustments
For any digital asset, including your website, it is important to check your website's color contrast and saturation level. Through greater contrast, text on the page becomes more legible to those with vision impairment.
Accessibility comes first. By making your content available to everyone, all your visitors can better experience your website, spending more time consuming your content and ultimately engaging with your brand and your product or service.
Example 1: Avamab Pharma
Example 2: Coal Association
2. Storytelling: The Biggest Web Design Trend
Your website, especially your homepage, is your digital business card, sales deck, and first point of interaction with clients in the digital space. So, if your homepage does not convey the story of your company, products, or services, it needs some attention.
However, it is one thing to simply include these critical pieces of information on your homepage and website. How you communicate is something else entirely.
Storytelling is an incredibly effective way to share critical information with your visitors. When done well, storytelling compels visitors to interact with your site – often without even realizing it. And they often remember it better when the information is shared in a memorable way.
In tandem with perfectly crafted content, carefully considered visuals and graphic elements can combine to create a powerful user experience!
Strategic storytelling, when combined with quality content and visuals, creates positive emotions and memories of your brand. So, before jumping straight into web design, take time to give thought to your web content, imagery and how they work together on your site.
Here are some current web design trends that can help you convey a story in a holistic way:
1. Using small design elements to connect different sections together: CharliAi
2. Introducing color backgrounds and design elements to tell a story in a subtle way: CharliAi
3. Color Use in Images and Text
With good a color palette and color strategy, your images can help tell your story and highlight the most important content.
Adding some vibrant colors to your text background can also help highlight key messages and create a clear visual structure of your website. Well-chosen photography with some color elements can also help tell a story while also drawing visitors through the page organically.
Example 1: Waterstreet
Example 2: Grifols
4. Asymmetrical Layouts
Traditional web layouts are so passé!
Asymmetrical web designs are becoming more common today. These designs, with a lopsided feel help concentrate a users' attention on the most important content and helps separate navigation or sidebar content from the more critical information. Not to mention, these designs can add some personality to your website! Instead of using templated, generic web layout, consider using one of the latest web design trends and create an engaging and captivating website that inspires visitors to stay and interact with your content.
Here are some examples of asymmetrical layouts that you can consider in the design of your own website:
Example 1: CBx Sciences
Example 2: Candeo
5. Creative and Meaningful Use of Images
Your images should represent what you are trying to sell to the client and resonate with your current and target audiences.
But before jumping into a search of ideal stock images, it is important first to identify the general theme of your images, and where and how you will use the images on your website or elsewhere. By being more strategic, you can select images for use online, and also in future marketing materials.
Once selected, an effective tip is to place images with overlapping sections. This practice can tighten up your messaging and create a continuous flow of the story for a cohesive storyline. Check out a couple of examples of this below.
Example 1: The PYURE Company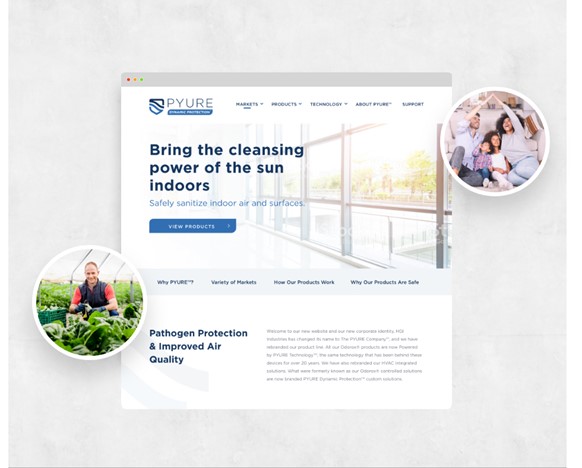 Example 2: Sudden Technologies
Conclusion
In this blog post, we discussed five of the latest web design trends in 2021. If you'd like to learn more about current web design trends and how they can help your website pop, reach out to Pace Creative today.
P.S. Are you in the retail business and looking for creative ways to market your product? Check out the latest innovations in our blog post, AR in Retail is Shaping the Future of the Industry